We recognise each client and family have unique circumstances and needs. Our model allows us the flexibility and deeply engage with families and develop individual care plans tailored to address our client's and loved one's concerns.
We understand how stressful it can be to have a loved one that needs help living independently while taking care of your own family or career. We are here to help. Our professional caregivers will partner with you to relieve this stress by providing compassionate care services with a personal touch.
PERSONAL & SUPPORT CARE
Assistance moving around your home during the day and at bed-time
Night sitting service
Assistance with your morning routines and planning your day
Assistance with bath time and medication
Light housework to include laundry, meal preparation & cleanliness
Social support, companionship, medical visits, outings etc.
Short pet walks where possible
LIVE-IN CARE
Total peace of mind and Perfect for patients who are living on their own and needing close supervision round-the-clock
Flexible hours
Full time Care | Part time Care
Call-outs. | On-call assistance
RESPITE CARE
Enabling existing carers and family to take a break
Short-term or long-term to suit
Periodic or Standby respite care
HOME HEALTH & SAFETY REVIEW
Ensuring you and your loved ones are safe and know what is required when you are at home
CONVALESCENCE
We can assist Post-Surgery & Rehab patients with various everyday needs. We match your recovery requirements from our pool of qualified carers
PHYSICAL EXERCISE MENU
Ensuring your carer has the relevant knowledge to assist you with your exercice routines
END-OF-LIFE CARE
Supporting you and your loved ones at this difficult time

Service Scope & Provider
We specialise in working with customers and their families who require care in their own homes
We will provide social and practical support care in the community, that will enable frail elderly and disabled people to live comfortably, socially, yet independently. All this of course with dignity and safety in compliance with current legislation.
Your Dignified Care will be a dedicated business registered according to the law (Companies House & the Care Quality Commission) and in collaboration with Team Carita DCS.
This arrangement will ensure that Your Dignified Care benefits from the stability of an established corporate foundation going back several years already.

Service Concept
Your Dignified Care has been created, in response to evidenced need across the Midlands and Northamptonshire in particular, for a bespoke care that is practical, safe, centred around the whole person and delivered by a team of proven care givers.
We are bespoke in the way we deliver
RESPONSIVE CARE: involving you and your loved ones to ensure that the care we provide is driven by your changing needs;
SAFE CARE: ensuring that your safety is always our top-most concern;
TEAM CARE: we will work as a cohesive team to ensure that you get the optimum and continuous care that together we will design for your needs.
We believe that every person is unique, so too are their care needs. Hence, we will tailor their care with them (in mind).
Your Dignified Care home care has therefore been created as a bespoke care that recognises that everyone is different and so the care menu should enable bespoke packages to be created/ particularised for everyone, as shown in Fig.1 below. The person's home becomes a hub of NHS appointments and other activities orchestrated by/ with their supervised carer and in response to unique circumstances.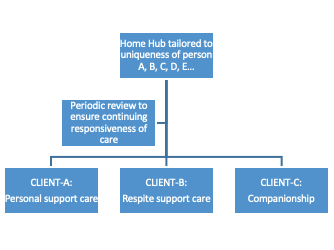 A Bespoke Home Care Hub
Based on a model optimised in partnership with Social Services over several years in the South-East and the Midlands, we maintain a select pool of screened and trained healthcare personnel.
From a philosophy of whole-system person management, each service user is assessed for their needs at their home. The objective is to ascertain their level of in/dependency or re-ablement and the related care or support needs, so as to map a responsive integrated and continuity care. A personalised service plan is so tailor-designed with the involvement of the user and or their relatives.
Following the needs assessment and service specification above, the best fit match care personnel is selected from our carers' pool and an initial matching meeting agreed with the service user and or their relative. The carer is supervised to provide a periodically reviewed service that treats the service user's home as a hub of comprehensive care as ascertained by their needs assessed according to Fig-1 above.
Every match meeting is presided over by the Statutory / Registered Manager who shall have personal responsibility for supervision and periodic review of the/ every service provision.
Our corporate QC scheme (with learning from the NHS, CQC & Team Carita) shall provide a second tier supervision as company policy. A care mandate shall then complete the financial procurement process leading to contract.
Supported Living Option
A variation solution is available for the provision of the above bespoke care to the service users semi-independent living setting or in a retirement home. The emphasis here is to provide a care service that makes the user feel at home albeit shared block setting.